Shumicon 2023 has sold out!
Shumicon is a partially free, partially paid event. We will sell a total of 600 event tickets.

Ticket prices
Sold on Kompassi.eu 10€ / ticket

Personal care assistants are granted free entry when accompanying a ticket holder.


At the door 10€ / ticket

Tickets are sold at the door, if there are any left from the online ticket sale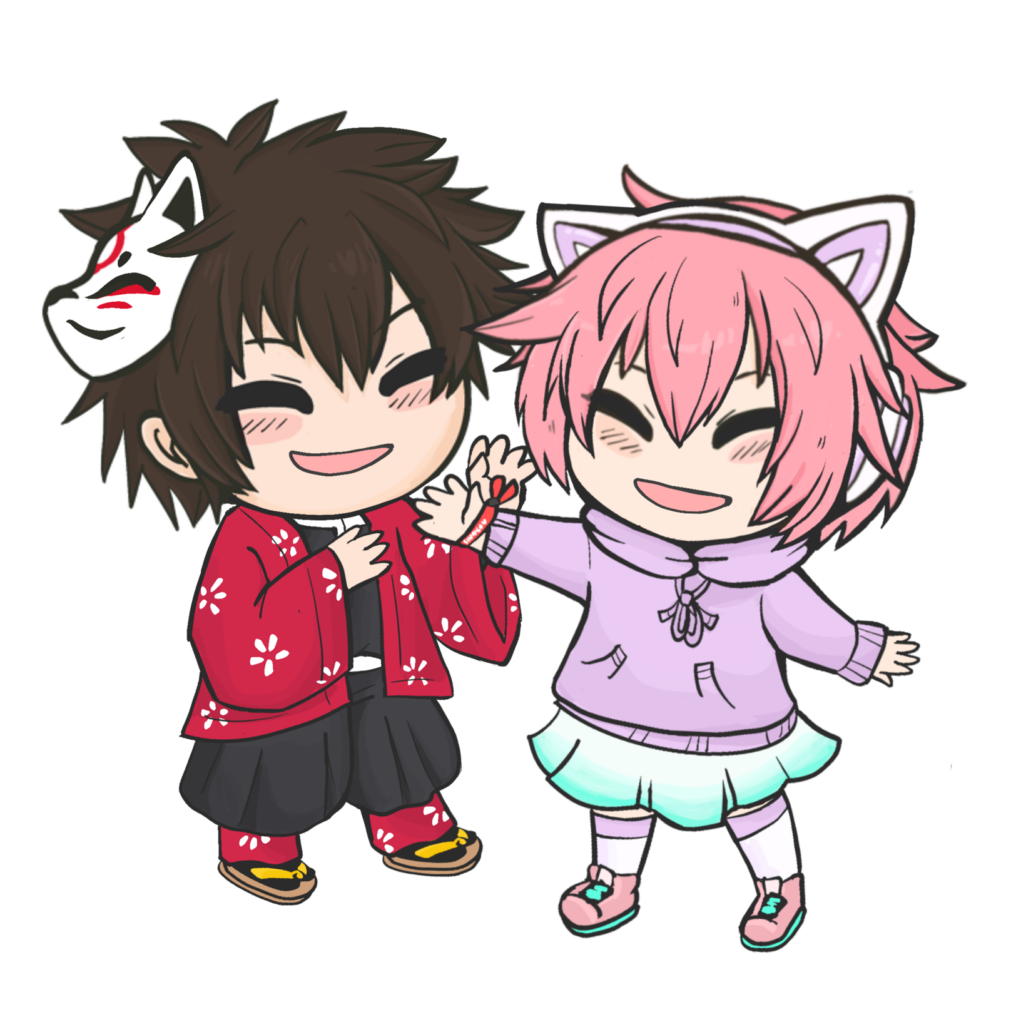 Ticket Terms and Conditions
Shumicon 2023 ticket includes an entry to Cultural Centre Stoa (incl. entry to Helsinki Adult Education Centre) where the ticket only programme is hosted. The date for Shumicon 2023 is 21.-22.10.2023. Entry ticket will be exchanged to a wristband, which grants entry to the event on both days. All tickets and wristbands are personal.
Ticket allows entry and access to certain areas and programs, as long as their is available seats. Some of the programming requires an additional ticket for seating free of charge. We will inform about said seating arrangements closer to event.
Some programs might hold a supply or entry fee, which will be charged separately. More information on said programme will be posted to our web page on a later date.
Areas and programme that require a ticket:
Cosplay Contest (Main Stage)
Shumishow (Main Stage)
Karaoke
Fleemarket
Photobooth
Meet-areas, reserving one and usage.
Dressing room
Workshops
Any other programme hosted in the Helsinki Adult Education Centre
Areas and programme that are free-entry:
Welcome- and Closing Ceremony (Main Stage)
Escape Room (separate fee)
Presentations and panel discussions in the Itäkeskus Library
Any programme in the Itäkeskus Library
Artist Alley
Vendor Hall
Outside programme
Any other programme in Cultural Centre Stoa and Itäkeskus Library
Programme for areas that require tickets will be updated as we get closer to the event. We reserve all rights to make changes. We will release an official programme schedule closer to the event.
Payment Methods
Tickets are sold at Kompassi, an online ticket sale service. Tickets are payed at purchase through Paytrail. Purchasing tickets requires a Finnish online bank identification. Tickets can also be purchased at the event doors if there are any tickets left from the online ticket sale. Tickets sold at the door can be purchased with card or cash.
Exchange and return policy
All tickets can be returned within 14 days of purchase. Ticket return policy ends 1 week before the event on 14.10.2023. We will only refund complete orders upon receiving a written request for a refund, it is not possible to get a portion of an order refunded (f.ex. just one ticket from an order of several tickets).
Tickets returned during the return time frame will be paid back using the payment method the customer used for the initial purchase. A return fee might be charged. All returns are made via email to lipunmyynti@shumicon.fi. When returned the barcode on the ticket will be nullified and ticket will unusable. Cancelling or returning tickets is not possible after the return time has passed.
Delivery and exchange
All tickets will be delivered to the email address the customer has provided. The buyer and the user don't need to be the same person. To exchange the ticket to a wristband, please present either a digital copy of the ticket on a smart device or a printed out version of the ticket.
Reselling
Shumicon is responsible only for tickets purchased via our official ticket shop on Kompassi. We do not take responsibility for any reselling done privately or via third-party services (such as huuto.net, tori.fi, Facebook Marketplace. Contact the third-party service or if need be, the police, in cases of reselling scams.
Venue
The venue for Shumicon includes Cultural Centre Stoa, Itäkeskus Library and Helsinki Adult Education Centre. Attendees who've purchased a ticket are allowed entrance to the ticket only area of the Helsinki Adult Education Centre and to enjoy the programme offered there, including the flea market, karaoke and workshops. Shumicon and its staff might have to limit the amount of attendants allowed in certain areas of the venue, due to lack of space, hazardous crowding or bad air quality. Only ticket holders who've also reserved a separate seating ticket can join Main Hall programs like the Cosplay Competition and Shumishow. These shows have separate seating tickets set due to a limited amount of seats compared to the amount of interested viewers.
Free Entry areas at Shumicon 2023 include Stoa's outside square, lobby and balcony, all of Itäkeskus Library, as well as the Dealer's Room and Artist Alley. In the library you can find all sorts of fun activities for all ages, and in Stoas lobby and balcony you'll find seating areas to just chill and enjoy the atmosphere of the convention. If deemed necessary, the attendees' access to the Dealer's Room and Artist Alley can and will be limited to avoid over crowding and to ensure a safe and enjoyable visit for all.
In Stoas lobby you can find restaurant Skutta, which will serve tasty foods and drinks to attendees of Shumicon.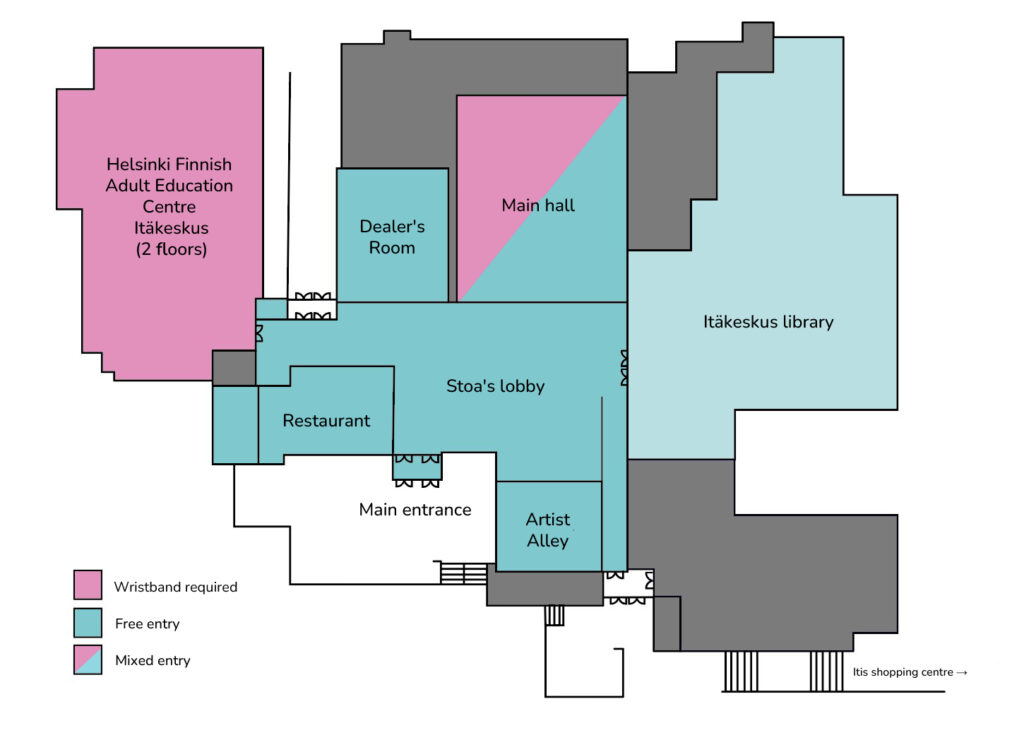 Pink areas: A Shumicon wristband is required for entry to these areas. The flea market, workshops, meetups and other program can be found within the Adult education centre's premises.
Blue area: Free entry for everyone. Anyone can shop in the Dealer's Room and Artist Alley, as well as see and join convention programs organized within Itäkeskus library.
Mixed entry: Some program organized in the Main hall requires a wristband and a separate seating ticket, (Cosplay competitions on Saturday, Shumishow on Sunday) but some program is free entry for all (Opening and ending ceremonies).
FAQ
What is Kompassi?
Kompassi is a system from convention organizers to convention organizers. Kompassi includes a convention calendar, an application system for volunteers and an online ticket sale system. Kompassi is free to use, and anyone can make their own user account. Making an account before the ticket sales makes the process much quicker.

Why is part of the event free admission and part of it not?
Parts of the venue is public areas of the city of Helsinki, which must be accessible to all and cannot be closed off from the public with a ticket sale.

Do you sell tickets at any other conventions?
No, we do not. Our tickets are sold at Kompassi.eu only as an online ticket sale. If any tickets are left over, we'll be selling those at the door. Information about possible door sales will be posted closer to the event.